"The reality of the value of commodities differs in this respect from Dame Quickly, that we don't know 'where to have it'." Karl Marx, Capital, Volume 1.





Dame Quickly belongs to Chris Chase-Dunn, a sociologist based in Baltimore, Maryland, USA.
---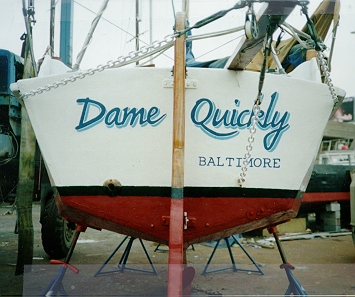 Dame Quickly is a Pennant class sloop built in 1956 by F. Schneider at College Point, Long Island. She is 27' LOA with a draft of 3'9" and beam of 8'. The hull is hard chined with a 1-ton steel fin keel with a slight bulb. The construction is white cedar planks on oak frames. It is a masthead "marconi" rig with a 36 foot solid cedar mast set quite forward, a long boom and a small fore-triangle. The mainsail can be reefed by rolling it up on the boom. A small jib on a jib club is on a baby stay, but I use larger foresails and disconnect the babystay.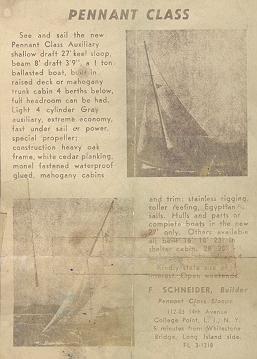 I bought the boat from Ed Knickman on South River in 1984 and spent ten years completely restoring her without any significant alterations. She already had a 4' boomkin, but that may not have been original. Auxiliary power is a gas Graymarine Lugger Light Four (69 cubic inches) with a three blade fixed propeller. I use a cruising spinnaker only.
The boat was built forty years ago. The Pennant class sloop was high tech for its time with a vee hull and a fin keel. But the sail plan was pre-Bernoulli -- a large main and a tiny foresail. I spent ten years restoring her, working near the Hanover Street Bridge at the Baltimore Yacht Basin. I worked on her so long that an artist from the Baltimore Sun drew a stylized sketch.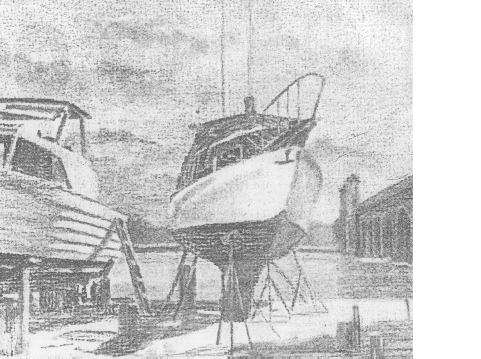 She now has many new fasteners, new planks, new ribs, sistered ribs, and new keel bolts (except those under the engine). The stem is mainly original. The deck is new. The rudder is new. The restoration was thorough, but not total.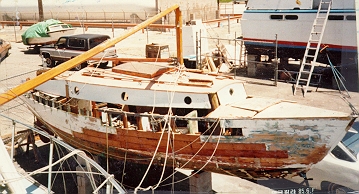 The mast broke twice. The first time was in the boat yard while I was working on the timbers to which the chain plates were bolted. A thunderstorm brought a violent twister that ripped out the temporary nails that held the shrouds, and down she came. The second time was during my first shake-down cruise. We had the rail near the water tacking with the genoa coming out of Annapolis. I went forward to tighten the inner forestay. My shoelace snagged a ring clip that was holding the clevis pin on the bottom of a turnbuckle. One shroud of six was disconnected under load. The mast twisted and broke about six feet above the cabin sole. For the rest of that trip we were Dame Toothpick. I am now the last remaining Chesapeake expert at marine scarfs for solid wooden masts, having done the job twice.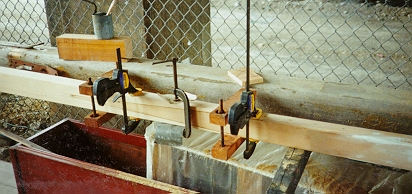 ---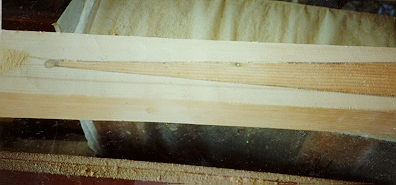 I have recently begun to race DQ. Team Dame Quickly includes Tony Lee and Darlene Miller. We managed to finish last in two races in 1998 and are looking forward to honing our skills in 1999.