Journey to Wreck Island
(624 words)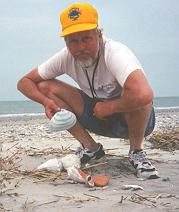 This last summer I had the opportunity to return to a place I spotted during the trip around, but had not had time to visit. Richard and I had anchored in behind a barrier island called "Wreck Island" after our harrowing entrance into Sand Shoal Inlet. It looked like a pristine and desolate place to explore but we had to make for Chincoteague. Thus the following May I set off down the bay, this time by myself. I wanted to test my single-handed skills and get to an isolated place so I could concentrate on a writing project.
My journey down the bay was a thriller. The second day out the wind blew from the north at 35 knots and my old boat fairly flew with only a reefed main. I made it in five days to Oyster, Virginia on the ocean side of Virginia's Eastern Shore. This nearly deserted clamming village would be my home port during the exploration of Wreck Island. No one in Oyster knew how Wreck Island had gotten its name.
I sailed out to the remembered isle one lovely morn, careful to avoid shoals after my miserable journey through a short stretch of the "Intercoastal Waterway." I anchored near the channel marker, a stout post with a green light, in a strong current that was business as usual in Sand Shoal Inlet. At first the anchor did not catch, and then it did. I proceeded to fire up my computer and to think about how I would get the rapt attention of undergraduates regarding the last twelve thousand years of human history. I wrote a few sentences and then glanced up to find the boat careening rapidly backwards with the current toward the channel marker. I started the motor just in time to save my boomkin from the post and managed to retrieve the anchor. It had been temporarily snagged on a piece of seaweed that had given way, sending me toward oblivion. Perhaps I was the wreck of Wreck Island.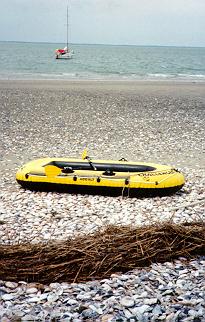 I moved around the corner to a less current-scoured bottom still 20 feet deep and only 25 yards from shore. Here the hook was solid and I resumed my word-smithing. After writing the Preface to Social Change and Evolution and signing it 'Wreck Island, May 22, 1997 ', I rowed my inflateable to land. I photographed the only "tree" in sight, more of a bush, and hiked down the ocean side of my secret island, Earth's edge. The only human artifact was a great steel bouy washed up from the ocean. A thick green moss was covering the mud-fingers that projected sea-ward. A long, high and narrow mound of shells formed the spine of the island. I took pictures and collected prizes for my wife and daughters back home. Distant females were the main audience of my thoughts. I filmed conch shells and flotsam and subtle colors in sea-worn clam shells.
I walked a mile and then saw a man in the distance, the other man on Wreck Island. He was on the shore side, kneeling in the mud digging clams with his skiff pulled up on a tussock. I kept behind the shell barrier to avoid disturbing his business and to preserve my solitary reverie. I collected shells to bring home and photographs to tell the story of a place that was nowhere. My effort to find words that would communicate with a younger generation had been at least partly realized But my thoughts were mainly with the immediate dear ones in my life, to tell them of Wreck Island and perhaps to bring them here to see the long sky and sea and shore where life begins and ends eternally, for awhile.