Contemporary Social Movements
and the Social Forum Process:
From the Global to the Local
June 21, 2010
General Lectures 100 and Manoogian 150 and 154
Wayne State University
Detroit, MI
https://irows.ucr.edu/conferences/ussf10conf/ussf10conf.htm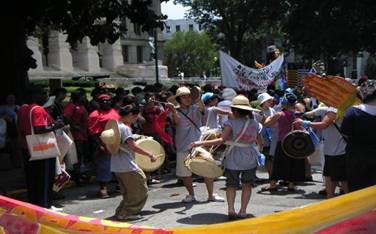 Korean Drummers at the USSF in Atlanta 2007
This one-day research conference seeks to draw together scholars engaged in research on the social forum process in order to strengthen our understanding of this important phenomenon, especially U.S. activists participating within it. The World Social Forum (WSF) process represents one of the most important political developments of our time because it has encouraged the mobilization and expansion of transnational alliances among progressive social justice activists and the building of a New Global Left. Social Forums provide "open spaces" where a variety of social actors—grassroots activists, staff within unions and non-governmental organizations, policy experts, students, intellectuals, journalists, and artists—from around the world can meet, exchange ideas, and coordinate actions. While participants are often divided in terms of priorities and preferred goals and tactics and work within various locales, the Social Forum process has significantly helped to bridge geographical, political, and social and cultural divides among participants in the global justice movement. In its nearly ten years of existence, the WSF process has mobilized millions of individuals in well over a hundred countries, encouraging popular discussion and debate as well as action to address some of the most pressing issues of our day. Hundreds of regional, thematic, and local Social Forums have been organized mainly in Latin America and Western Europe, the spread of regional Social Forums is now reaching other parts of the globe, including Africa, Asia and North America. The first U.S. Social Forum, held in Atlanta, Georgia in June 2007, was an historic meeting drawing together about 10,000 social justice activists, who were very diverse both in terms of their movement and organizational affiliations as well as their race and ethnicity. The second USSF meeting will be held on June 22-26, 2010 in Detroit, Michigan, presenting an historic opportunity to study this exciting political process in action.
This one-day conference seeks to bring together graduate students, faculty, and other scholars that are studying the social forum process to exchange ideas and prepare for the research that they will undertake while attending the 2010 meeting of the USSF. Scholars interested in participating are invited to submit abstracts, papers, or workshop proposals on the following kinds of topics:
(1) research findings about social forum participants and/or events;
(2) how participants (organizational or individual) organize social forum activities and prepare for their participation within them;
(3) the impacts of social forum participation on individuals, organizations, or social movements (in terms of their ideas, social networks, action plans, etc.);
(4) political debates taking place at the social forum or surrounding the social forum process;
(5) the emergence of new kinds of political ideas and practices among social forum participants;
(6) the relationships between scholars and activists in the social forum process;
(7) new methods and strategies for studying social movements and the social forum process.
.
This conference is co-sponsored by the Center for Peace and Conflict at Wayne State University, 
the Political Economy of World-Systems section of the American Sociological Association, the journal Critical Sociology the Program on Global Studies at the University of California-Riverside, the Institute for Research on World-Systems at the University of California-Riverside, the Global Studies Association, the World Society Foundation and Sociologists Without Borders.